→ The Basics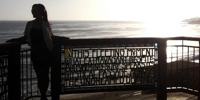 Aliases: Amy, Ava, Firebird, Nechan, Yunie
Age: 26
Location: California
Industry: Legal
Pseudoscience: O+ Blood, Taurus, Tiger
Likes: Sunshine, cheesy puns, documentaries, and the ocean.
Dislikes: Cold weather, bad-mouthing others, and impatient drivers.
I get restless easily, and I can't stand being trapped in a box. I like people who can laugh at themselves. I relate to people who are confined due to obligations, but not to people who confine themselves due to childish fears. I don't do fake civility, so I quickly drop those who are troublesome.
AVA is the initials of my first and middle names. It worked out well for an easy online handle. However, you really can call me whatever you'd like, as long as it's not offensive.
→ Countries Visited
Canada, China, France, Germany, Italy, Japan, Mexico, Switzerland, South Korea, Taiwan, United Kingdom, United States, Vietnam
→ Geek Interests
Anime/Manga: Angel Sanctuary, Blue Seed, Bubblegum Crisis, Cowboy Bebop, Evangelion, Fake, Ghost in the Shell, Gravitation, Gundam Wing, Howl's Moving Castle, Kimi wa Pet, Monster, Ouran Host Club, Paprika, Perfect Blue, Samurai Champloo, Tekkaman Blade II, Yami no Matsuei
Video Games: Final Fantasy series, Guild Wars, Parasite Eve, Perfect World, Persona series, Ragnarok Online, Rhapsody, Septerra Core, Super Puzzle Fighter, The Longest Journey, World of Warcraft, Xenogears, Xenosaga series
→ Find me @
Cybernations as Aeris
DeviantArt as LCie
Facebook as (Private; ask me.)
LinkedIn as (Private; ask me.)
Livejournal as Newtype
MyAnimeList as Amy
Wordpress at Under My Skin
Yelp as Blush