// Ghost in the Shell: SAC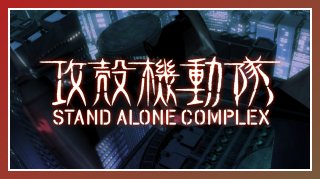 English Name: Ghost in the Shell: Stand Alone Complex
Japanese Name: Kokaku Kidotai Stand Alone Complex

Media Type: TV Series
# of Episodes: 26 (1st gig), 26 (2nd gig)
Original Air Dates: Oct 1, 2002 to Oct 1, 2003; Jan 1, 2004 - Jan 8, 2005
Genres: Action, Mecha, Sci-Fi, Military, Police, Seinen
Producers: Production I.G., Bandai Entertainment
Countries Aired: Austria, Australia, Canada, France, Germany, Hungary, Japan, South Korea, Spain, United Kingdom, United States
Synopsis: Ghost in the Shell: SAC is set in a futuristic world where technology has reached new heights. Prostetics body parts, cyborgs, and robots are common. Even the most normal person has cyberbrain enhancements which keep them seamlessly integrated with the internet. One's humanity is defined by having a "ghost" or soul, rather than human biology.
Public Security Section 9 is a government intelligence agency that investigates cyber crimes in New Port City, Japan. Through the day to day lives of the Major, Batou, Togusa, and the others, we explore politics, philosophy, and heart-pounding action.
// Staff & Voice Actors
★ Director - Kenji Kamiyama
★ Original Creator - Masasune Shirow
★ Music - Yoko Kanno, Ilaria Graziano, Origa, Hide

★ Animation - Tadashi Hiramatsu, Takayuki Goto, Masahiro Ando, Toshiyuki Komaru
★ Script & Storyboard - Dai Sato, Itsuro Kawasaki
★ Special Effects - Masahiro Murakami
★ Planning - Shigeru Watanabe, Mitsuhisa Ishikawa

★ Motoko Kusanagi ~ Astuko Tanaka, Mary Elizabeth Glynn
★ Batou ~ Aiko Ootsuka, Richard Epcar
★ Togusa ~ Koichi Yamadera, Crispin Freeman
★ Hideo Kuze ~ Rikiya Koyama, Kirk Thornton
// Direct Spin-offs
Ghost in the Shell S.A.C. 2nd Gig The "sequel series" or second season of the tv series. It contains the story arcs related to the Individual Eleven terrorist group, the Cabinet Intelligence conspiracy, and the escalating refugee dilemma. More focus on politics than the first season.

Solid State Society The movie, set years after the end of the series. Where Motoko has left Section 9, Section 9 has expanded to include more members, and Togusa is now in the Major's former position. There's a mysterious hacker name the Puppeteer around, as well as a mystery involving the Solid State Society and missing children.

Laughing Man & Individual Eleven OVAs There are 2 OVAs regarding GitS: SAC. Both are compilations of the main storyline arcs in each season in a condensed, abbreviated format, compacting multiple episodes into 2 hours 40 minutes.

GitS: SAC - The Novels Three novels written by Junichi Fujisaki based on the Stand Alone tv series. Each book tells of a side story adventure set during the time the Major is leading Section 9. In order, they are The Lost Memory, Revenge of the Cold Machines, and White Maze.

GitS: SAC - The Video Games Two console games of the same name with stories based on SAC and chronologically set during the break between the two seasons. One is an action genre game on the Playstation 2 (PS2). The other is a Playstation Portable (PSP) game that is a first person shooter.